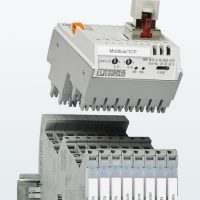 MINI Analog Pro 
The highly compact MINI Analog Pro signal conditioners offer the easiest installation and startup in a confined space.
Features & Benefits
Easy installation, thanks to easily accessible terminal points, power bridging, and plug-in connection terminal blocks, also with Push-in connection technology.

Easy startup and servicing: measure signals without disconnecting current loops, plus optional disconnect function.

Numerous configuration options: easy configuration via DIP switches as well as extended configuration via software or smartphone app without additional accessories.

Easy to maintain, thanks to large-surface marking areas, status LEDs in every signal conditioner, and group error messaging.

Suitable for every application, thanks to multifunctional device types and extended supply voltage and operating temperature ranges.

The highly compact MINI Analog Pro signal conditioners with plug-in connection technology are a part of the COMPLETE line system.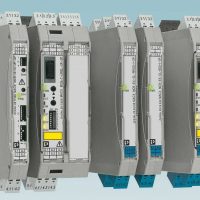 MACX Analog 
MACX Analog offers outstanding safety for your applications with comprehensive explosion protection and functional safety.
Features & Benefits
Safe and reliable, thanks to international Ex approvals and functional safety in accordance with SIL and PL.

High signal quality, thanks to safe electrical isolation and long service life, thanks to to low self-heating.

Significant space savings, thanks to an overall width of just 12.5 mm for single and two-channel standard functions.

Flexible supply: modular 24 V power bridging with group error messaging or wide-range input up to 230 V AC/DC.

Service-friendly connection technology, thanks to coded, pluggable terminal blocks, with optional screw or Push-in connection.

Fast signal connection with compact, robust Termination Carriers for system cabling.

MACX Analog signal conditioners with functional safety and explosion protection are part of the COMPLETE line system.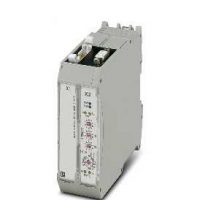 Multiplexers for HART signals 
Multiplexers for digital connection of HART-compatible field to a PC or management system.
Features & Benefits
Supports online configuration and diagnostics for the connected HART-compatibles field devices.

Constant documentation of process variables and states.

32 HART channels per multiplexer.

Up to 128 HART multiplexers at one PC interface.

Communication via software tool (e.g.HART OPC Server) using RS-485 interface.

Electrical isolation between auxiliary energy, RS-485 bus and the HART channels.

HART field devices are accessed at the same time that the measurement signal is transmitted without affecting measured value processing.

HART field devices connected via universal HART connection boards; direct connection if processing non-Ex signals, with separate Ex i signal isolator connected upstream if processing Ex signals.

Power supplied via HART connection board.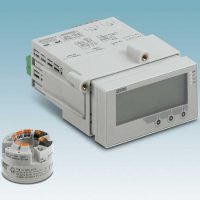 Field analog- Process indicators and field devices 
Monitor and control your process values or record temperatures directly in the field.
Features & Benefits
2-conductor sensors are powered by the integrated measuring transducer supply.

International use, thanks to UL and CSAapprovals.

Universal use, Field Analog process indicators are available for field and control panel installation. The universal inputs allow you to record current,voltage, RTDs, and TCs.

Everything at a glance, Real-time process values are easy to read on the five-digit back lit displays. The bar graph also provides you with a quick overview. You can recognize alarm status easily from a distance by their changing color.

Easy installation and startup, Thanks to the standardized housing dimensions and plug-in connection terminal blocks, the indicators are easy to install. The devices are easy to configure via the keyboard on the front or via FDT/DTM software.

Intrinsic safety zone 0, zone 20, Also for intrinsically safe circuits in the Ex area: versions with ATEX, CSA,and FM approval.

Distributed control cabinet installation, Measurement and control temperature transducer for resistance thermometers, thermocouples, resistance-type sensors,and voltage sensors are also available for control cabinet installation.

Head-mounted transducer, With head-mounted transducers you can record temperatures directly in the field and convert them into standard signals.