Sirius Compact Starter 3RA6 
Compact Design that saves space in the control cabinet. 
Features & Benefits
Little planning and assembly work and far less wiring thanks to a single complete unit with one article number.

Low variance and therefore low stock levels, with two wide voltage ranges and five wide setting ranges for the rated current.

High plant availability through integrated functionalities such as prevention of main contact welding and disconnection at end of service life.

Enhanced productivity through automatic device reset in case of overload and differentiated detection of overload and short circuit.

Easy checking of the wiring and testing of the motor direction prior to start-up thanks to optional control kits.

Speedy replacement of devices thanks to removable terminals with spring-loaded and screw connections in the main and control circuit.

Efficient power distribution through the related SIRIUS infeed system for 3RA6.

Direct connection of the motor feeder cable to the SIRIUS infeed system for 3RA6 thanks to integrated PE bar.

Connecting and looping through incoming feeders up to a cross-section of 70 mm².

When using the infeed system for 3RA6, possibility of directly connecting the motor cable without intermediate terminals.

Integration in Totally Integrated Automation thanks to the optional connection to AS-Interface or IO-Link.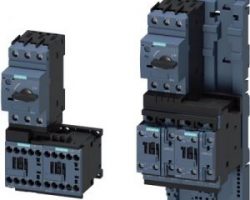 Sirius 3RA2 load feeders
Minimum planning and assembly work and far less wiring with the preassembled complete units. 
Features & Benefits
Plug-in connectors from the motor starter protector to all types of SIRIUS controls, for quicker and error-free assembly of feeders with screw and spring-type terminals.

High planning reliability through consistent combination tests for fuseless and fused configurations according to IEX and UL/CSA.

Comprehensive approvals for use worldwide on request, see www.siemens.com/industrial-controls/support.

High operational reliability through short-circuit breaking capacity of 150 kA with type of coordination "1" and "2".

Uniform accessories for sizes S00, S0, S2 and S3.

Spring-type terminals possible throughout: Enhanced operational reliability (vibration-resistant wiring) and less wiring work thanks to plug-in connections (S00 and S0 only).

Power loss 5 to 10% smaller than for comparable devices, hence lower energy consumption.

Connection of feeders to the control system through standardized system connection (IO‑Link and AS‑i), for fast integration in TIA and less wiring work.