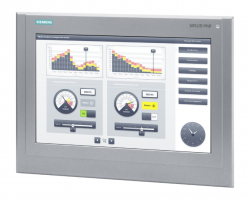 Features & Benefits 
Resistance to aggressive chemical, biological, and mechanically active gases and salt mist.

Protected from condensation (ice formation is allowed!).

High reliability across an extended temperature range, in the start-up phase as well as during operation.

Flexible adaptation to any application thanks to extended site altitude from –1000 to 5000 meters.

High productivity and investment protection through minimal downtimes and performance losses.

Reliable operation in a wide temperature range from -30 °C to +60 °C, for example in refrigerated warehouses or in desert regions (for outdoor panels).

Tested and certified for use under biologically, chemically and mechanically active substances (3B2, 3C4, 3S4) including salt mist, sand and dust (for outdoor panels).

High vibration and shock resistance, for example for use in vehicles or in the stamping machine and press sector (for outdoor panels). 

Panel front in IP66 for high degree of protection against dust and water penetration, for example for use in the mining industry or on ships (for outdoor panels) 

High UV resistance for long-term availability of function and optics, for example when used in mountain regions or close to the equator (for outdoor panels). 

Bonded display (as tough as laminated safety glass) for maximum protection against air humidity (90%), condensation and thermal stresses, for example for use in tropical zones (for outdoor panels).