SIMATIC ET 200MP
Maximum performance and extremely easy usability.
Features & Benefits
Station configuration with the I/O modules of the SIMATIC S7-1500 in a distributed configuration.

Low parts variance and uniform front connector for all 35mm-wide modules.

The pre latch position of front connector enables convenient pre wiring.

Channel-specific diagnostics allows fast and clear identification of process errors and reduces plant standstills.

Station can be expanded with up to 30 I/O modules.

Each module includes up to 32 channels.

Clear arrangement using one-to-one assignment of module and diagnostic LEDs to terminal and label.

"Expandable cable storage space" ensures uniform station appearance in the control cabinet.

PROFINET IRT for isochronous mode with clock rates up to 250 μs.

High-performance backplane bus of the SIMATIC ET 200MP enables fast response times.

Integrated shielding design enhances station resistance against external EMC interference.

Digital input modules with very short input delay of 50 μs.

Analog modules with conversion time of 62,5µs  rsp. 125 µs for 8 channels.
Increase productivity with the ultimate power – Advanced Controllers SIMATIC S7-1500 with ET 200MP brochure
SIMATIC ET 200SP
The powerful IO system for compact control cabinets. 
Features & Benefits
Free choice of the PROFINET connection technology via bus adapter.

No tools needed for wiring due to push-in technology.

Improved accessibility of the wiring thanks to a new arrangement of the spring NC contacts and the associated conductor opening.

Extremely clear arrangement thanks to colored labels and reference labeling plates and labeling strips.

Channel-specific diagnostic functions.

Expandability of the station to 64 modules.

Space savings in the control cabinet.

Compact dimensions, suitable for 80 mm standard control boxes.

Fast communication via PROFINET.

Modules and terminal boxes can be replaced while system is running ("hot swapping").

Uniform shielding concept, from the conductor, terminal box and back plane bus to the PROFINET cable.

Greater energy efficiency thanks to system-integrated PROFIenergy.

AS-Interface.

Configuration control via software.

Fast communication via PROFINET with isochronous backplane bus as standard.

PROFIBUS, the proven fieldbus standard as an alternative.

With AS-Interface, sensors and actuators of the lowest field level can be easily and quickly interlocked and connected to the SIMATIC ET 200SP.

IO-Link ensures a uniform connection of switching devices, sensors or RFID devices to the control level via a cost-effective point-to-point connection.
SIMATIC ET 200 in IP67 "Think outside the box!" – with flexible solutions outside the control cabinet Brochure 
SIMATIC ET 200SP HA
The variant for use with SIMATIC 7. 
Features & Benefits 
The new terminal block layout and the push-in technology make tool-free wiring possible. 

Higher flexibility during the installation in the control cabinet is possible due to the separation of mechanical and elec tronical components, allowing the station to be prewired without I / O modules. 

 Slot covers can be inserted on the integrated terminal blocks, which can be replaced at any time. 

Plant downtime considerably reduces the economic efficiency of process plants

 Redundant, flexible components significantly increase the availability of the plant. In addition to operating the SIMATIC ET 200SP HA station redundantly via the PROFINET interface, there is also the possibility of a redundant set up of the I / O modules.

The compact size with up to 56 peripheral modules per station and the high channel density of up to 32 channels on a 22.5 mm wide module reduces the space requirement in the control cabinet to a minimum.

Ready for the field: For installation in hazardous areas up to zone 2, Extended temperature range: -40 to + 70 ° C, Enhanced interference immunity according to NAMUR recommendation NE21, Conformal coating of all components and can be used up to an altitude of 4 000 meters.

Capacity limit: max I/O modules of 56 & max address space of 1440 bytes.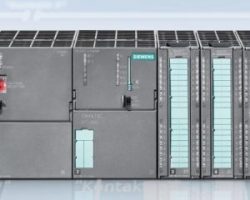 SIMATIC ET 200M
I/O station for high density channel applications with S7-300. 
Features & Benefits 
Modular I/O system with IP20 degree of protection, particularly suitable for user-specific and complex automation tasks.

Consists of a PROFIBUS DP or PROFINET interface module IM 153, up to 8 or 12 I/O modules of the S7-300 automation system (structure with bus connection or with active bus modules), and a power supply if applicable.

Can be expanded with S7-300 automation system signal, communication and function modules.

Applicable Ex analog input or output modules with HART optimize the ET 200M for use in process engineering.

Can be used in redundant systems (S7-400H, S7-400F/FH).

Modules can be replaced during operation (hot swapping) with the bus modules active.

Transmission rates up to 12 Mbps.

Ex approval to Cat. 3 for Zone 2 acc. to ATEX 100 a.

Fail-safe digital in/outputs as well as analog inputs for safety-oriented signal processing in accordance with PROFIsafe.

Supports modules with expanded user data, e.g. HART modules with HART minor variables.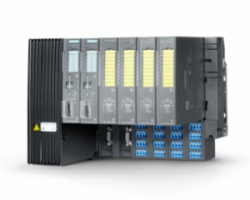 SIMATIC ET 200iSP
The proven intrinsically safe IO system for hazardous areas. 
Features & Benefits 
Terminal modules: mounted on an S7‑300 rail; for connecting power supply, interface, electronics, watchdog and reserve modules and for prewiring, with blue screw-type or spring-loaded terminals for hazardous environments or with black screw-type terminals for non-hazardous environments.

Power supply unit: 1 or 2 (redundant) power supply modules PS with pressurized enclosure for feeding 24 V DC or 120/230 V AC.

Interface module: 1 or 2 (redundant) IM 152 interface modules for connecting the station to the PROFIBUS DP.

Electronics modules (2/4/8 channels): Up to 32 in any combination; Digital electronics modules (DI, DO); Analog electronics modules (AI, AO); Safety-related electronics modules (F-DI, F-DO and F-AI) or Watchdog module.

Accessories: Reserve module for reserving a slot for any electronics module; Terminating module (included in scope of delivery of terminal modules for the PROFIBUS interface); Labeling sheets with printable labeling strips & Inscription labels for slot numbering.