Distance- Adjustable Photoelectric Switch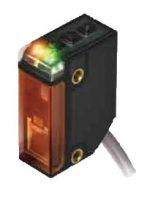 Performance that exceeds expectations 
Reliable detection of any object under any conditions. 
Features & Benefits
Compact size with super long-distance detection with triangulation method as objects of any colour made from any material can be reliably detected

Switch is suitable for use on conveyor lines with long-distance detection of up to 750mm 

Designed for ease of use with regular installation, metal threads that improve workability and better display visibility 

Uses a new algorithm and a filter that cuts light from ambient illumination 

Variation in sensing long distance over full operating temperature range (-30°c to +55°c) is ±4% max (reference value when HP7-G81 is set to 500 mm) 

Variation in sensing direction in the horizontal direction with a 45° incline ±2% max (reference value when HP7-G81 is set to 500 mm) 
General-Purpose Self-Contained Photoelectric Switches HP7 Series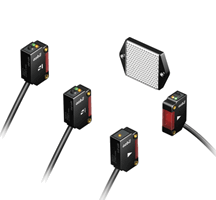 High performance photoelectric switches
Suitable for a variety of applications and conditions. 
Features & Benefits
Wide range of configurations and specifications 

Improved resistance to interference e.g. fluorescent lights 

Threaded metal mounting holes for more reliable installation 

Different frequency thru-scan model for stress-free installation 

Inexpensive, to meet current market needs 

Auto Adjust button for situations where detection is difficult 
Limited Diffuse Scan Fiber Units HPF-D028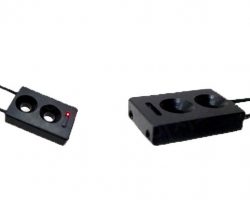 3 types of limited diffuse scan sensor
Scanning distance from 2.5 mm to 7.4 mm for different materials. 
Features & Benefits
Detection principle that allows factors like background and target object colour to have little effect as detection at a specific distance is possible 

With an LO (light ON) output mode and set value of 5000,wafers will be detected within approximately 3-7 mm range. Even in cases where background is approximately 10 mm from the sensor, almost none of its reflected light will reach the sensor, ensuring reliable detection 
Wafer-Mapping Fiber Unit HPF-T030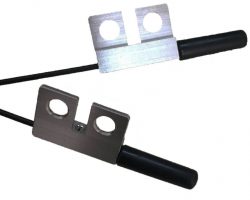 Reliable mapping  
Detect liquid leakage with less adjustment time. 
Features & Benefits
Tight Beam with aperture angle of ±1.5° max that keeps the influence of light wrap around to a minimum 

Alignment of mechanical axis to -0.8°c/+0.8°c max reduces adjustment time greatly 

HPX-AG's percent tuning function is recommended because it can reduce operator setting variation 
High-Accuracy Position Sensors K1G Series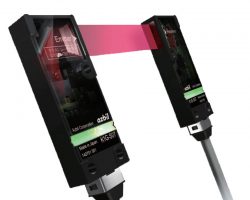 High Performance Laser Sensors 
A combination of a CMOS  linear image sensor and collimated lasers ensures high-accuracy work piece position measurement.
Features & Benefits 
Tiny variations and high-speed fluctuations overlooked by conventional sensors can now be reliably detected and visualised 

High accurate glass measurements with periods of 250µs can now be made regardless of how the edge surface is processed 

High resolution with detection accuracy down to  0.1µm with repeatability accuracy to 1µm

Special lens along with CMOS linear sensor enables visual perception of work piece position

Dual-engine architecture allows the integrated FDN algorithm to process huge amounts of data at high speed. By means of multitasking, processing speed is accelerated to approximately 4x that of conventional models 

A built-in function adjusts for minute offsets caused by fluctuations in work piece position, resulting in highly advanced, more accurate detection

A small sensor head allows a small alignment unit, helping to reduce the overall equipment footprint 

Ultra-thin head with two sensor models of detection range 7 and 15 mm are available for a wide diversity of applications 

Single controller can connect to as many as four sensor heads with two types of sensor head that can be used together 

Up to 25 meter cable extension with easy installation points to find 

Built in wiring check function, multi-calculation functions & measurement modes to fully streamline work time before and after measurement