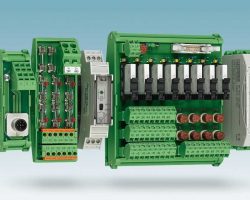 Customer specific products 
We provide exactly what you require. Talk to us – we develop a tailored solution for you.
Features & Benefits
Personal consultation with one dedicated contact person for the duration of the entire project phase.

Individual concept creation for your application.

Fast, reliable handling by experienced specialists.

Large and small series with professional quality.

On-schedule delivery, thanks to precise planning and project control.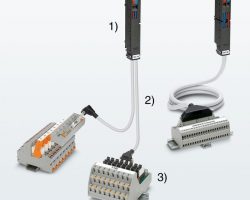 Controller-specific system cabling 
VARIOFACE system cabling connects the controller to the field – easy and error-free.
Features & Benefits
Exceedingly versatile: range of various functions such as relay, solid-state relay and feed-through connector.

Individual structure thanks to interface modules with 1, 2 or 3-conductor connection technology.

Flexible – Connect with screw, spring-cage or Push-in connection technology.

Fast, error-free, and uniform wiring thanks to pre-assembled system cables.

Simple planning using the configuration cross-reference list or online selector.

System cabling is a part of the COMPLETE line system.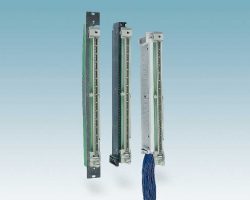 Retrofitting & modernization components 
Bring old control systems in line with state-of-the-art technology using refit adapters from Phoenix Contact.
Features & Benefits
Greater availability, thanks to short downtimes during the migration process.
Error-free connection by retaining the existing field wiring.
Reduced wiring effort, thanks to plug-in components.
Reduced maintenance costs, thanks to ongoing technological development of the system.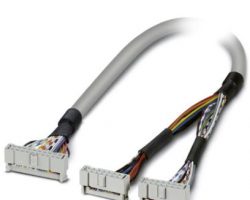 Universal cables 
Save time: our assembled system cables can be connected error-free in no time at all.
Features & Benefits
Outstanding service: standard lengths from 0.5 to 10 m as well as individual lengths.

High current carrying capacity, thanks to the large conductor cross section of each single wire.

Resistant, thanks to encapsulated connectors with a robust design.

Flexible, thanks to open cable ends with labeled single wires.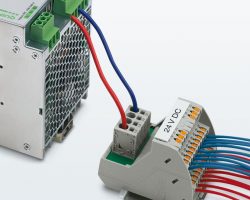 Potential distributors 
Suitable for universal use – For operating voltage or control voltage distribution.
Features & Benefits
Comprehensive collection of signals due to several potential levels.

Clear separation of potentials thanks to separate supply for large conductor cross sections.

Clear assignment of connection terminal blocks, thanks to consecutive marking.

Potential distributors are a part of the COMPLETE line system.