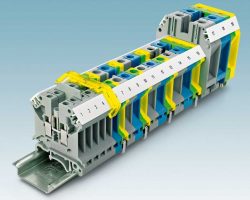 UK universal modular terminal blocks 
Global standard with multiple conductor connection. 
Features & Benefits
The universal foot allows the terminal blocks to be easily snapped onto two popular DIN rail profiles, the NS 35 DIN rail or the NS 32 DIN rail with G shape.

The range of application for terminal blocks is greatly determined by the bridge accessories. A wide choice of bridges is available for the UK series, enabling all switching tasks to be performed with ease.

If used with the corresponding fixed bridges, the step brackets STL allow terminal blocks with different nominal cross sections to be connected. This allows in feed blocks to be created with ease.

Any number of positions can be easily disconnected from a 10-pos. strip of the fixed bridge with isolation cap FBI placed in the bridge shaft and screwed down.

The L bridges LB can be used to guide two different potentials over up to 100 terminal blocks in the bridge shaft.Isolated and color-coded contact screws clearly indicate the relevant potential.

The bridge bar isolator switching bridges ISSBI enable switchable cross connections if used with bridge bar isolator. 

The isolated insertion bridges EB are simply clamped down at the connection points with or without conductors. The bridges can be assembled as required for the number of positions. Individual forks are removed for jumping bridging.

PSB test sockets which can be screwed into the bridge shaft enable reliable test points for 2.3 mm and 4 mm test plugs. The 2.3 mm MPS test plug makes direct contact in the bridge shaft when using terminal blocks with an overall width of 5.2 mm and 6.2 mm.

Large and clear marking of the terminal points is essential for reliable and quick installation. Each terminal point in the UK series can be labeled separately.

The separating disk TS is used to electrically and visually separate two neighboring bridges. A separating disk should be placed on both sides of the bridge in order for the terminal blocks to retain their complete nominal voltage.

The partition plates protrude beyond the terminal block contours. They provide visual as well as electrical group separation.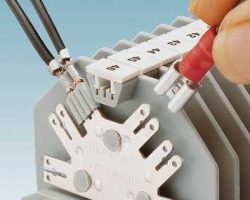 UK universal terminal blocks with special connection
Thanks to special connection technologies, we have the perfect terminal block for your requirements.
Features & Benefits
The front flat plug connection is the optimum wiring design for tight spaces and if cable ducts need moving close to the terminal strip.

The housing walls only protrude slightly beyond the metal parts because it is assumed that fully-isolated plug-in sleeves are connected.

The slotted plugs allow a fully isolated or two bare 2.8 mm plug-in sleeves to be slid on in place of one 6.3 mm flat plug-in sleeve.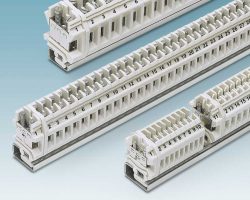 SSK high-termperature terminal block 
Ceramic feed-through terminal blocks SSK ensures safety in all application. 
Features & Benefits
The SSK modular terminal blocks with ceramic isolation approved as standard for areas at risk of explosion are recommended for use anywhere with tough operating conditions, especially in terms of temperature and chemical aggressiveness.

One of the key features of the ceramic terminal blocks is that they can be used continuously at high temperatures of up to 220°C. They are recommended for sites with high thermal requirements and extreme changes in temperature.

Given the space-saving design, SSK ceramic terminal blocks are ideally suited to control systems in tight spaces.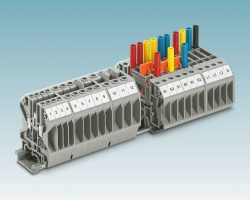 USST spring-assisted screw terminal blocks 
Space-saving conductor connection.
Features & Benefits
The modular terminal blocks USST  were developed especially for use in the energy supply sector.

When combined with hook-type cable lugs, the spring-assisted screw terminal blocks optimally meet the technical requirements of ENATS 50-18.

Universal foot for mounting on NS 32 and or NS 35 DIN rails.

The bridge bar isolator switching bridges ISSBI enable switchable cross connections with IS-K.

The screw functions as a current-carrying switching element: Large-surface marking options of every terminal point.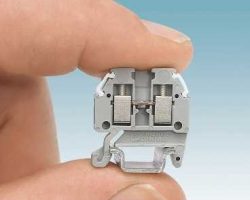 MT and MBK mini screw terminal blocks
Their compact design means that the micro terminals MT 1,5 can keep pace with the growing need for ever smaller switch boxes. 
Features & Benefits
The MT miniature screw terminal blocks may be tiny but they can be marked and bridged just like their larger cousins. With a pitch of 4.2 mm and a connection cross section of 1.5 mm², they permit convenient wiring in tight spaces.

The screw connection of the miniature terminal blocks MT is characterized by three main features: Global standard, Multiple conductor connection & Zero maintenance thanks to Reakdyn principle

Potential branching is one of the most common tasks in control unit construction.The MT miniature terminal blocks are available as three-conductor and four-conductor versions. A large number of switching tasks can be undertaken in the terminal strip with the linear bridge shaft.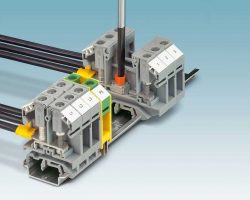 OTTA bolt connection terminal blocks 
Space-saving design with integrated shock protection. 
Features & Benefits
Thanks to their compact type, OTTA bolt connection terminal blocks are ideally suited for switch gear, in which space is limited.

The key feature of this range is the hinged cover which can be swiveled open and which features a captive cap nut.This guarantees quick and easy ring cable lug wiring.

In addition to securing the cap nuts,the hinged cover offers simultaneous shock protection when using insulated ring cable lugs.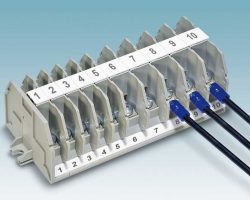 RSC bolt connection terminal blocks 
Extensive program with flexible assembly and modular shock protection. 
Fe
atures & Benefits
Comprehensive range of standard terminal blocks with Ex approval.

Compact function terminals and fuse terminal blocks for signal wiring.

Space-saving signal wiring with innovative marshaling terminals and marshaling patchboards.

Terminal blocks for process technology applications are a part of the COMPLETE line system.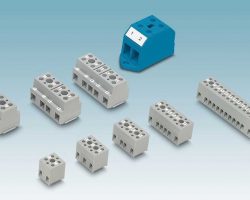 Device terminal blocks 
For direct rail-free use with safe conductor connection. 
Fe
atures & Benefits
Compact device terminal blocks fitted free of rails are mainly used in network connections for electric and electronic equipment and in small terminal boxes. 

The device terminal blocks are designed for very stringent requirements. The screw connection familiar from standard modular terminal blocks offers:Maintenance-free conductor connection, Simple multiple conductor connection and Conductor connection with or without ferrule. 

The device terminal block range is available up to a nominal cross section of 35 mm² and 125 A with various numbers of positions. The terminal blocks are clearly and easily identified with the marking material.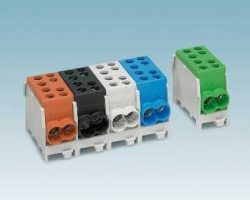 UDB trunk line branch terminal block 
Suitable for simple voltage pick-off of main supply cables up to 35 mm². 
Fe
atures & Benefits
The branch terminal blocks from the UDB series are suitable for the simple voltage pick-off of main supply cables up to 35 mm².

The UDB blocks are used in counter and marshalling cabinets.

They meet the requirements of DIN VDE 0603-2/EN 60998-1.

The touch-proof blocks can be snapped together in a modular fashion depending on the application and attached to NS 35 DIN rails in accordance with EN 60715.

Available in two terminal block versions up to 25 mm² or up to 35 mm².

Available in the five current conductor colors, e.g., for three-phase cables.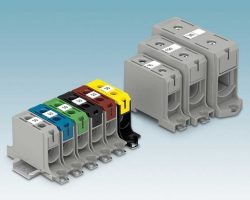 UBAL universal terminal blocks for aluminum conductors
The universal UBAL terminal blocks are suitable for the connection of aluminum and copper wire.
Fe
atures & Benefits
The metal parts of the universal terminal blocks are produced from high-quality aluminum alloys. A lead-free tin coating on the clamping parts and screws enable the connection of aluminum and copper wires.The terminal blocks are suitable for both rigid and multi-stranded conductors.

The contact chambers are coated with an antioxidant, simplifying the aluminum conductor mounting process. Another advantage is that the screws do not need to be tightened, meaning that the terminal blocks are maintenance-free.

The universal terminal blocks are certified for the connection of aluminum conductors in accordance with EN 61238-1 (Class A).Furthermore, they are approved in accordance with IEC 60947-7-1 and are suited in particular for photovoltaic applications. Therefore, the terminal blocks are tested for an operating temperature of 90°C.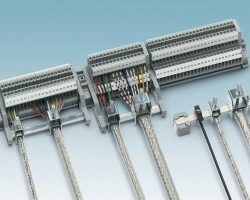 SK shield connection clamps 
Large shield support with safe contact & easy to install. 
Fe
atures & Benefits
Shield connection terminal blocks are suitable for all standard cable shields and allow for EMC-compliant wiring through large surfaces and low-impendence and low-resistance contact transitions.

The shield connection clamps offer optimum wiring convenience. Only once the terminal strip has been wired is the shield connection terminal block mounted by simply pivoting it into place.

Phoenix Contact support brackets for shield connection clamps are easily snapped onto the mounting rail. The integrated contact metals allow the ground potential to be automatically connected to the bus bar.

Conductors with a diameter of 2 to 35 mm can make optimum contact with the shield connection clamps from the SK series without any special tools and are available for various types of mounting.

The single-sided shield support brackets AB-SK are particularly well suited to space-saving conductor connection for terminal blocks and devices with cable entry at the side.

The double support bracket offers simple handling with optimum EMC properties for the two-sided support of a shielded cable.Either an isolated or grounded structure can be used.

The easiest way to wire terminal blocks with a front connection is using support brackets AB-SK TOP located above the blocks. The NLS rail can be mounted in the support brackets vertically, horizontally or at a 45° angle for optimum conductor placing.

The 3 x 10 mm PEN conductor bus bar can also be quickly and safely snapped into the contact zone. The ground potential is thereby automatically connected to the bus bar.

Having the same design as the SK series,shield supports with terminal blocks




SK …-D can also be realized directly on the mounting plate or back wall. The terminal blocks are simply pivoted into the two slots above the conductor.

Support brackets with a lateral metal insert for the PEN conductor bus bar or T-shaped compact support brackets AB-SK/E are used to freely position the shield connection clamps on the mounting plate.

Alternatively, the shielding can also be connected to ground potential isolated from protective earth ground. An appropriate contact to the PEN conductor bus bar is established using a pick-off terminal block

The easiest way to wire terminal blocks with a front connection is using support brackets located above the blocks.This method also allows multi-level terminal blocks with short wiring paths to be connected in compliance with EMC requirements.